Digital technologies are transforming the world, and nowhere are the stakes higher than in developing countries. The Digital Roadmap sets out 26 concrete recommendations across 5 priorities to ensure that the digital revolution leads to inclusive growth for everyone.
Key findings
This is a critical moment in history. Some countries will prosper in a new global digital economy, but countries that are not ready will risk being left behind.
Countries have the agency to act now. The Digital Roadmap identifies five priority areas for countries to create their own digital future.
Technology will not guarantee success, no matter how innovative it is. Just as important as new technology is the social and economic environment in which technology is used.
Technology will almost always be a force for growth, but technology is not automatically a force for inclusion. Without deliberate effort to include everyone, digital technologies can end up entrenching existing inequality.
Government, civil society and the private sector should come together to craft a shared national vision. Everyone has a role to play in major economic transformation.
With new digital technologies come opportunities for low and middle-income countries to diversify their economies, create new jobs, transform agriculture, and improve health and education. But digital technologies can also entrench exclusion and disrupt peoples' livelihoods. This report, based on two years of research and analysis, is underpinned by learning and extensive engagement with policymakers, entrepreneurs, civil society and academics from around the world.
Five priorities to get ahead in the digital age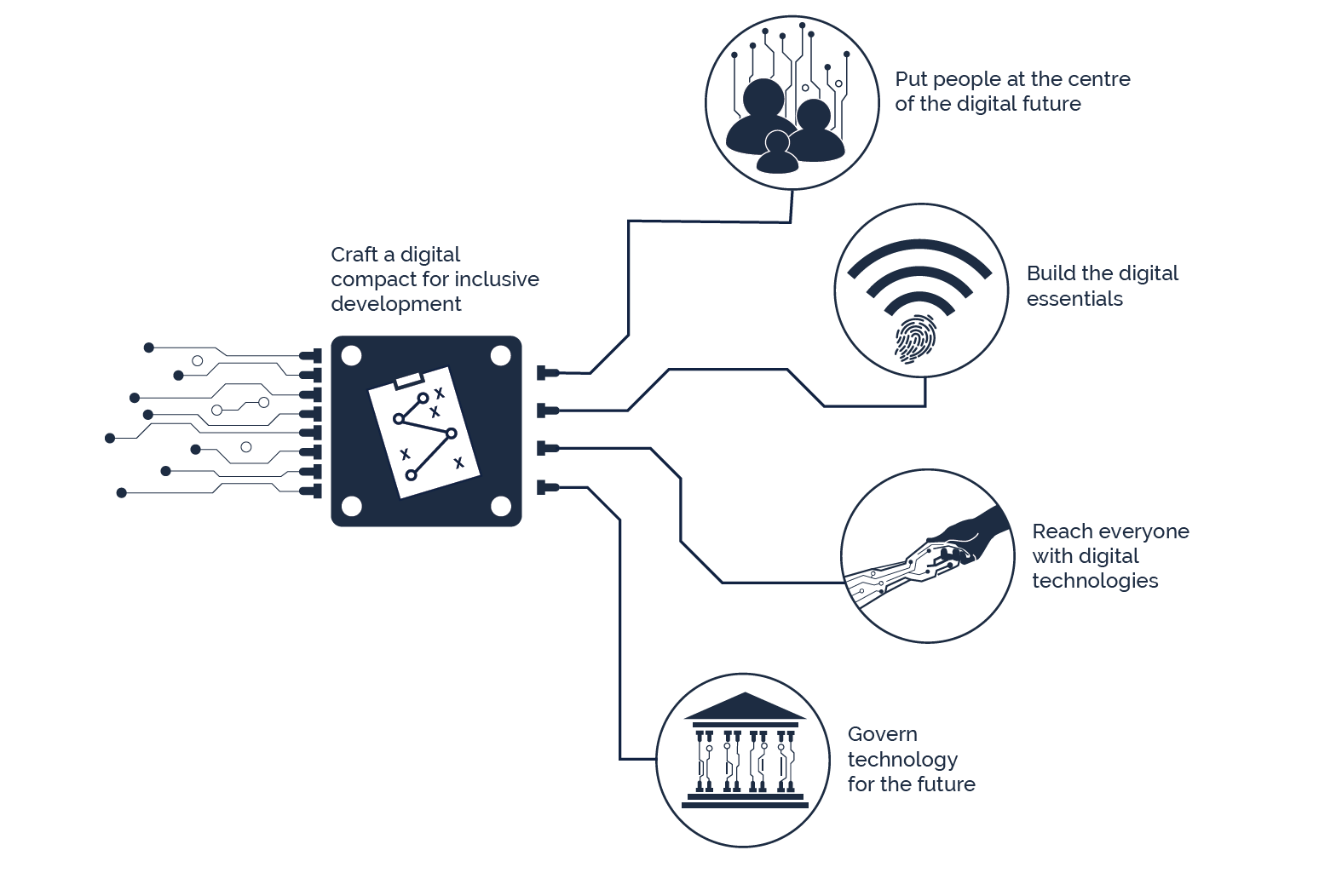 The Digital Roadmap presents an overarching vision for a globally connected world that both delivers on the opportunities presented by technology, and limits downside risks. Importantly, it also sets out how this vision can be achieved.
Craft a digital compact for inclusive development
Embracing country-wide digital change will be disruptive. Navigating it requires coordinated action. Reconfiguring an economy will result in some resistance. The best way to achieve buy-in, and to balance trade-offs, is through dialogue: the private sector and civil society in its broadest sense (including community leaders, academia, trade unions, NGOs, and faith groups). The political economy of upheaval is difficult, but change can be managed with discussions that are inclusive of multiple groups. These dialogues should result in a national digital compact: a shared vision of the future to which everyone commits. The Pathways Commission has supported three countries – Ethiopia, Mongolia and South Africa – as they each developed country-wide digital strategies, using the Digital Economy Kit.
Put people at the centre of the digital future
Rapid technological affects peoples' lives. Failure to put people at the centre of social and economic change can lead to social unrest. The pace and intensity of change means it's all the more important that people are at the centre of the digital future – not the technology. This requires equipping people to benefit from opportunities, while also protecting them from the potential harms of the digital age. Governments should take responsibility for ensuring that vocational education is truly useful for workers and for business in the digital age. The private sector needs to be involved in keeping curricula up to date.
Build the digital essentials
Digital products and services cannot be created in a vacuum – essential components need to be in place: physical infrastructure, foundational digital systems (such as digital identification and mobile money), and capital to invest in innovation. These are the basic ingredients needed for existing firms to adopt more productive technologies, and for digital entrepreneurs to build and innovate. Having reliable infrastructure and interoperable systems means that firms and service providers can focus on their core business, without having to build an enabling environment from scratch.
Reach everyone with digital technologies
If technology is to be a force for development for everyone, it must reach everyone. Just over half of the world's population is connected to a digital life; for the rest, digital opportunities don't mean much. Without digital connections, people can't participate in digital work platforms, benefit from new technologies in education, or engage with government services online. Women, people with lower levels of education, and people in poverty are usually those who lack digital access. Reaching everyone requires looking beyond current business models. The private sector needs to design for inclusion, ensuring the poorest and most marginalised consumers, to ensure they are not left even further behind.
Govern technology for the future
The unprecedented pace of change and emergence of new risks in the digital era (such as algorithmic bias, cybersecurity, and threats to privacy) are creating headaches for even the most well-resourced countries. For developing countries, the challenges are even bigger. Digital technologies fundamentally shape what people do and how they do it: freelancers may face algorithms that determine chances to get hired. Banks might face a financial system with heightened risk from new, non-bank deposit holders. These issues, and many others, require new and adaptive approaches to decision-making. Emerging global norms will need to consider the needs of developing countries.
Everyone has a role to play
Almost every aspect of the Digital Roadmap requires government action.
Government is crucial in steering countries towards inclusive digital transformation. And while other actors must also play a part, it is governments who have a central responsibility for delivering effective change. Almost every aspect of the Digital Roadmap requires government action. The variety of responsibilities and roles in a successful digital transformation requires a whole-of-government approach – not siloed plans confined to individual ministries.
Priorities for government
This is not only a matter of the private sector's social obligation, but of mutual benefit.
The private sector is vital for national digital transformation – creating new jobs and delivering digital products and infrastructure. Countries cannot truly embrace digital transformation without leadership from the private sector. Business leaders should be involved in crafting a national digital compact – a shared vision for the future – that recognises their central position in the economy. This includes: designing affordable digital products, embracing the disruptive competition of new digital industries, and building digital skills across the workforce. This is not only a matter of social obligation, but of mutual benefit. The private sector stands to gain from better livelihoods, a wealthier customer base, and a more skilled labour force. The Digital Roadmap outlines how business leaders across the economy must contribute to this vision of shared prosperity.
Priorities for the private sector
Donors and philanthropists
The Digital Roadmap sets out where philanthropic and donor-led efforts can make a real difference
Given the resource constraints in many developing countries, donors and philanthropists can play an important role in providing support, funding, and concessional finance to achieve an inclusive digital transformation. In such resource-constrained settings, the availability of funding and support is likely to be crucial for the priorities in the Digital Roadmap.
Funders can also help channel capital towards risky innovation and put resources behind new global public goods: open research, tools, and standards that no other actor will provide for free. However, donors should be clear-sighted and strategic, investing in coordinated plans rather than piecemeal pet projects. The Digital Roadmap sets out several activities where philanthropic and donor-led efforts can make a real difference for digital transformation. 
Priorities for donors and philanthropists
Civil society and multilateral organisations
Civil society can lend experience, expertise, and organising power to digital transformation
Civil society and multilateral organisations have an important role to play in a digital transformation. Domestic civil society leaders, such as trade unions and community groups, can help to bring broad-based political consensus, and importantly, they often represent poor and marginalised people who would not otherwise have a voice in the discussion around digital change. The global international community and multilateral organisations shape global norms and governance of technology and drive global political priorities. Both can contribute to the success of an inclusive digital transformation by lending their weight, experience, expertise and organising power to the priorities in the Digital Roadmap.
Priorities for civil society and multilateral organisations